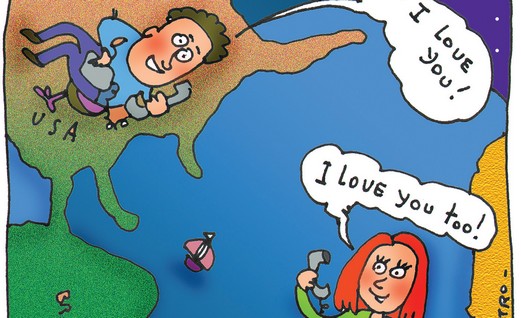 Couples who are into a serious commitment may suddenly find themselves in tight situations due to certain changes in their circumstances and unforeseen events. They may be separated from each other due to recent developments such as extended business trips and assignments, advanced learning or training, deployment to war-torn areas, etc.
While long distance relationships bring about a wide range of complications and challenges, couples can adopt various techniques to cope with such extended physical separations. You can compensate for the absence of physical contact by channeling your time and energy into aspects of the relationship that help to maintain a fair level of intimacy, trust and confidence.
Now, this should not be a major challenge as you can rely on advanced technology to achieve your objectives. For instance, Skype dating presents a lot of opportunities so you can be able to cope with the extended physical separation from your partner or spouse.
Skype Dating Essentials
However, you have to be conscious of the caveats of Skype dating and other similar "online engagements." Internet-based engagements lack the necessary follow-through when it comes to non-verbal forms of communication.
This means there is a strong chance messages may be misinterpreted or even create some doubts. This is the reason you should learn how to effectively practice Skype dating to get ahead with your long distance relationship.
To obtain the desired results from Skype dating, it is important you know how to harness the full potential of this technology. Couples carrying on long distance relationships normally use Skype for practical reasons.
Key Features of Skype
This free voice and video chat online facility is seen as a practical alternative to the expensive international phone call service. The key features of Skype include the following:
Free calls via Skype-to-Skype setup
Video conferencing
File sharing and instant messages
Low cost voice calls to land-based and mobile phones
Keep The Flame Burning in Your LDR With Skype Dating
Given the benefits you can obtain through Skype dating, long distance relationship shouldn't be such a fearsome thing for couples. While the hopeless romantics would adamantly stick to the old-reliable love letter, sometimes things can get more exciting if you "do" things through Skype.
Your relationship will endure the long drawn separation if you keep your focus on maintaining trust, confidence and intimacy in your relationship. The distance should not be a reason for a couple to drift away from each other.
You can use Skype dating to achieve a meaningful and enduring connection with your partner or spouse. Keep your partner or spouse as part of your daily routine. Let them feel such online engagements are important to you. It is only when you are able to reassure them of your commitment that you will prevent jealousy and mistrust from ruining your relationship.
You must always reinforce their confidence and trust in you so they remain in their comfort zone. Keep on dispelling those day-to-day doubts through Skype dating. Come up with surprises and creative ideas to make each of your encounters more interesting than the last one. Remember, keep the fire burning to survive a long distance relationship.